Chiropractic Testimonials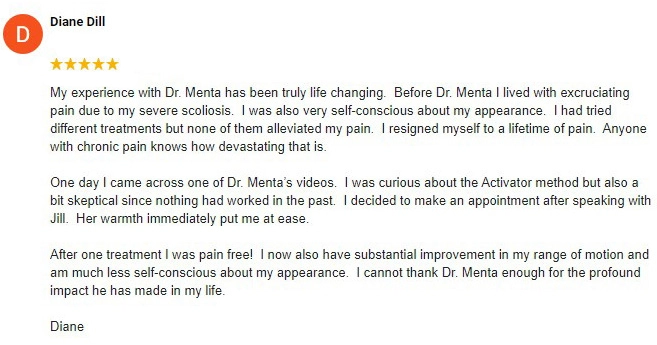 ---
"I have four bulging discs in my neck, a vertebra that pops out 3/4 in my lower back/lumbar region when I bend and lift, my scapula pops out, I get bad headaches and through the years Dr. Menta has relieved all the pain and I have a great range of motion. I recently had a nasty fall and my shoulder and arm hurt. No joke. One treatment I was able to lift my arm and put my shirt on without being in agony. He is the real deal!!
I would definitely have needed surgery on my spine if it wasn't for Dr. Menta. When I first went to him I had severe headaches my scapula, neck, upper and lower spine, everything was out of alignment. Dr Menta does his clicks and I'm back working fluidly. I can't thank Dr Menta and Jill enough for their friendship and support."
- Wendy Camp
---
"Every time I need an adjustment, Dr. Menta, is able to make me feel better. I highly recommend all that have any back issues. We all live with some kind of discomfort, which can be easily resolved by meeting Dr. Franco Menta."
- Pablo Chumpitazi
---
"Dr. ,enta is fantastic. I highly recommend him. His wife Jill is wonderful too."
- Renee Herbette Lupone
---
"The Menta practice is wonderful. Migraines bah-bye!"
- Jon Lynn
---
"Dr. Menta is the bomb. I sit here now pain-free and think back to how I could have possibly spent my last 10 years of my life in pain and/or on hardcore meds...He saved me from all that. I don't know how he does what he does but he is just incredible! So glad I found him."
- Sparks S.
---
"I was a bit skeptical about chiropractors, but my 17-year-old daughter was having back issues and after just three visits she has been pain-free. I sat in on the first visit and Dr. Franco Menta pointed out what he thought the issues were and it looks like he was correct. Plus the cost of a visit is reasonable. They have flexible cancelation policies and they are very flexible in working around one's schedule and pleasant to work with."
- Paul P.
OFFICE HOURS
---
Monday
9:30am - 12:30pm
3:00pm - 6:30pm
---
Tuesday
3:00pm - 6:30pm
---
Wednesday
9:30am - 12:30pm
3:00pm - 6:30pm
---
Thursday
3:00pm - 6:30pm
---
Friday
9:30am - 12:30pm
---
Saturday
Closed